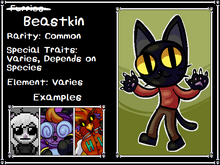 Beastkin are a species found in HorrorVale.
Overview
Beastkin are upright and/or humanoid animals.
Unlike Therianropes, Beastkin always retain an animal appearance.
Sub-species
Mammal
Mammals are mammals ya mammal. Warm blooded and typically bear a coat of fur.
Avian
Avian beastkin are the group composed of bird like characters. Many of the elderly Avians have difficulty relating to Avian youth, after all, back in their day they didn't have such fancy technology like computers or T.O.L., no, all they had was a giant asteroid that caused a mass extinction!
Reptile
Reptile beastkin have the unfortunate pleasure of being stereotyped as the puppet masters controlling the world. Of course this is clearly false, have you ever seen a depiction where the Grim Reaper was a lizard?
Amphibian
Amphibian beastkin specialize in both land based and aquatic environments. Don't expect to rake in huge profits trying to sell them beachfront property, they'll just build their homes under the water where you land-based denizens can't venture.
Insectoid beastkin compromise the majority of the insect kingdom. Unlike the majority of other sub-species, Insectoid's tend to be primarily nature element rather than flesh element.
Known Characters
Trivia
It is asked in game what the difference between a Beastkin and a normal undead animal is.