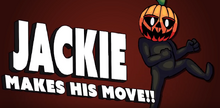 Jackie is a party member in HorrorVale, he is a Pumpkin Headed Dancer who was announced during the "Pumpkin Panic" trailer released by BatWorks Software on 5/26/2019.
Design
Jackie wears a full black body suit and wears what appears as a pumpkin mask on his head. He sports two yellow eyes.
Gameplay
Jackie will utilize various dance moves to buff allies and debuff enemies.
Trivia
Community content is available under
CC-BY-SA
unless otherwise noted.