"AAAAAAAAAAAAAAAAAAAA"
Rogue Pilot is an enemy encountered in HorrorVale. He can be found at the base of HorrorVale Heights.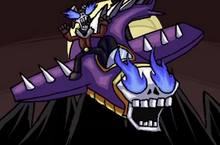 Trivia
According to BatWorks Software's Dustin Andrews. The Rogue Pilot's larger battle sprite was the result of accidentally drawing his artwork on the wrong canvas, however this artwork was kept in as it made the pilot normal sized compared to Alice and co.