Sentrybot is an enemy in HorrorVale. They are green robotic enemies that can be found rolling around on the second floor of the HorrorVale Lab.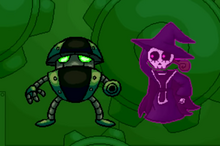 Combat
Sentrybot's are one of the strongest enemy's the player can encounter in Act 1. Sentrybot's have the ability to increase their defense stat, and if given the chance to chain multiple defense boosts, and reduce damage taken significantly.
Trivia
Sentrybot's are a nod to Jonto, one of the two comic series by BatWorks Software's Dustin Andrews.