Snek is a miniboss that will appear in HorrorVale. He is a giant snake with a specialized robotic suit to give him arms.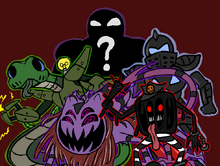 Design
Snek is a giant green snake with blue eyes. Attached to its chest is a large dark green chestpiece with a lightbulb on the back. On either side of the chestpiece are two prosthetic mechanical arms that end in large grabbers not unlike that of a claw machine.
Trivia
Snek was sponsored through Patreon.