Vampires are a species found in HorrorVale.
Overview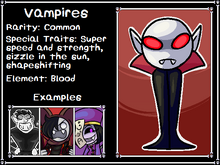 Vampires are an undead with pale skin and sharp fangs most known for drinking blood.
HorrorVale vampires don't need blood to survive but have an insatiable craving for it. A vampire going without blood for long periods can cause irritability, hallucinations, insomnia, and light headedness. Luckily blood is abundant in the underworld, being the underworld's counterpart to water (although water does still exist).
Known Characters
Sparkling Vampire
Bram
Count Orlok